Contact Gauges: Series 700
Click to Download PDF Data Sheet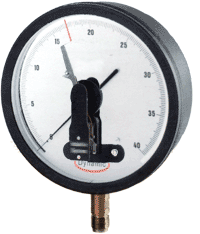 Applications
Contact Gauges are ideal in the applications which demands measurement and control of pressure by switching electrical contacts ON and OFF. This eliminates the need of separate switches for pumps and motors which gives audio or visual alarms. The small adjustable magnet mounted in the contact assembly, attracts the contact arm just before the set pressure value which prevent the common problem of arcing and burning of contact pins.
Sizes
100, 150mm
Accuracy
±2.0% FSD
Standard Features
Pressure Connection
Bottom or Back
Bourdon Tube (Wetted Part)
Copper Alloy / SS 316
Movement
Copper Alloy / SS 304
Dial
White Alluminum with Black Markings
Bezel Ring
Screwed/Pressfit
Over-Range Protection
130% of FSD
Mounting
Bottom or Back
Threaded Entry
1/4", 1/2" BSP/NPT

Typical Applications
For Heavy Duty installations.
Pressure Element
Material: Copper Alloy/ SS 316
< 100kg/cm2: C Type
>100 kg/cm2: Coil Type
Pointer
Aluminium/Spring Steel
Window
Clear Acrylic
Case
SS Case OR Die Cast Alluminium Black Finish
Contact Details
Single Or Double Electrical Contacts
Contact Rating
Voltage: 250V max.
Rating: 30W (DC), 50 VA (AC),
Current Rating: 0.75 Amp max.
Set Point Adjustment
By means of removable key
Optional
3 hole Surface Mounting Flange
With Clamp or Panel (Back Entry only)
Other Pressure connection Other Pressure connections